Oh wow I have missed so much going on with the forum and your thread Marc! I had no idea you went back for surgery. I hope you are doing well and this works this time around I really really do, you have always been an inspiration to me.
I am about to update my own thread, it looks like more surgery is in the near future for me as well, and there is a good chance I will be coming to your area as I want to meet with Dr. Angle.
I hope you don't have to be on Valium indefinitely, that is what I've been told too since my first surgery and when I tried to get off that and Norco I had insane withdrawal symptoms.
Also, Are you sure your other symptoms are AC joint bursitis? My newest physiatrist believed I have the same issue and gave me 4 cortisone injections on each shoulder and they made all of my symptoms much worse...please tread carefully! What made you decide to go with Botox for the occipital neuralgia?
Quote:
Originally Posted by
nospam
I have tapered down to 2.5 mg of Percocet 3/day and hope to be off of it soon (I had withdrawl symptoms last time I titrated off too quickly). I am still dependent on Valium to keep my SCM tension and occipital headaches under control.
I'm confident that the majority of my remaining post-surgical pain is rotator cuff: AC joint bursitis & supraspinatus tendinitis (icing and ultrasound/TENS combo have helped greatly). I hope to get AC joint cortisone injections for the bursitis/tendinitis next week. I am scheduled for Botox in two weeks: occipital headache protocol plus SCM dystonia protocol (not EMG-guided).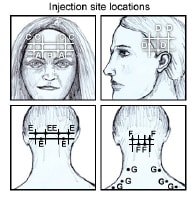 If the Botox doesn't work, I may be looking at being on Valium indefinitely.