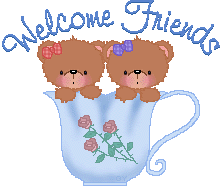 Welcome to our big group of caring people
You do have a lot of problems.
You know, you're the first person I know that has had an actual muscle biopsy. They don't do those too often. I know you're disappointed to have gone through so many doctors and tests and still no answers. That is frustrating.
I don't know what to say. You seem young, but life has seemingingly been unfair to you.
And although you don't feel "close" to your family it is still your family. If you're feeling distant, that's understandable. I tend to want to face difficult things so I can deal with it. I think you're facing your situation very bravely. If you know where you're at, that's half the battle.
Okay. Let's take it as a given that you're adopted and that's not the ideal way to start your life off. But what if you're adoptive family hadn't taken you, wanted you and kept you. You would be somewhere, but where?
Don't know all your situation but I'm not hearing any abuse here. That's something to be thankful for. Food, clothing, shelter, love, school, and medical care, if you're getting that, that's a lot to be thankful for. Not saying you're not thankful, but it really is a lot.
Being young and unhealthy is not good. I feel like you got robbed here. not knowing what's going on with you is bad. Maybe the new group in Pittsburg will have a break in your case and give you some answers.
When you have multi problems, it becomes complicated. Try to keep each health condition separate and ask yourself if each thing has been addressed to the best of their abilities. I've found there are no quick fixes for me. I have acquired patience. I've learned to relax just a little and not beat up on myself too much.
Mental issues are not easy to live with. There are lots of struggles ahead just with those. I think you can get help and improve in this area. probably hard with so many unanswered questions but you can improve. To the extent that you can improve, you need to let that happen.
Pain is bad to endure. I'm so sorry you're suffering in so many ways.
Until you get answers, maybe be open to relaxation techniques, meditation, spiritual comfort, family love, with some trust and hope going forward into new hands for care and treatment.
Lastly, if they don't know what it is, be careful not to grab at anything thus causing unforeseen problems. You're young, but you will have to guide yourself through these times. Learn as much as you can and ask questions and weigh the answers. you are your best advocate.
I would also suggest you keep a diary of what you're going through, to refer back to.
Keep us posted. We're here for you. No question is too silly.