I wish I had known you were there MommaD, I would have come to find you! It really bummed me out to have day 1 cancelled after all the training we put in. However, with the headwind at 15-20 gusting to 25 all day on Sunday, I would not have made the whole 70 mile 2nd day if I had ridden 100 miles the day before.
We finally made it out of the start chute in LaGrange at about 8:50am. I would estimate that about 10,000 of the 13,000 riders made it up there to start day 2. The first 35 miles to lunch were pretty smooth and easy going for me. I was averaging about 14mph even with the big hills near Bastrop and the headwind.
After lunch was a different story...we lost alot of the trees acting as a windbreak and got into more open and rolling terrain with lots of exposed areas where the wind would just come screaming through. I managed to get into some really good pacelines that dragged me to the last break point. I waited there for my wife, and we rode the last 8.7 miles together.
Coming into Austin, we started seeing more and more people by the side of the road cheering us on. There was a family with cowbells ringing them and chering, which prompted the comment from a rider next to me of "We need more cowbell!" There was a dad with several kids drumming on orange home depot buckets. There was the person in a chickensuit. There was the bar patio full of folks having an afternoon beer who cheered each group as we went by. There was a couple, one with a bass drum and one with a wood block and a mallet beating out a little syncopated rhythm to keep us moving.
Funny story...I was getting dehydrated on the last leg and kept stopping at the top of the sharp steep hills to take a drink. The downhills were really fast, the roads were crowded, and the pavement was challenging in places...so I couldn't drink on the way down. On the way up the next incline, I was working too hard to stop and drink. So I would stop at the top, take a quick drink, and start moving again. My wife finally caught up on one hill and said "you don't have to keep stopping to wait for me". I had to catch back up to her and explain I was stopping for ME! I think that made her feel better...
And how can you describe the finish line scene? Thousands of people lining the sides of the street for probably a half a mile stretch. Coming down a great big hill and seeing it all unfold in front of you? Suddenly you can't even feel everything that had been hurting for the last 30 miles. Your legs feel like air...the bike feels like a rocketship under you. There were people leaning out to give us high fives. We stopped to get a few pictures taken with the finish line in the background, and I had to keep my sunglasses on so nobody could see the tears welling up in my eyes. Its a magical scene...and one I hope to see from the seat of my bike for many years to come.
Here are a few photos from the day:
My wife Michele with her bandanna from a gentleman with MS in Austin. The message says "With God, anything is possible!"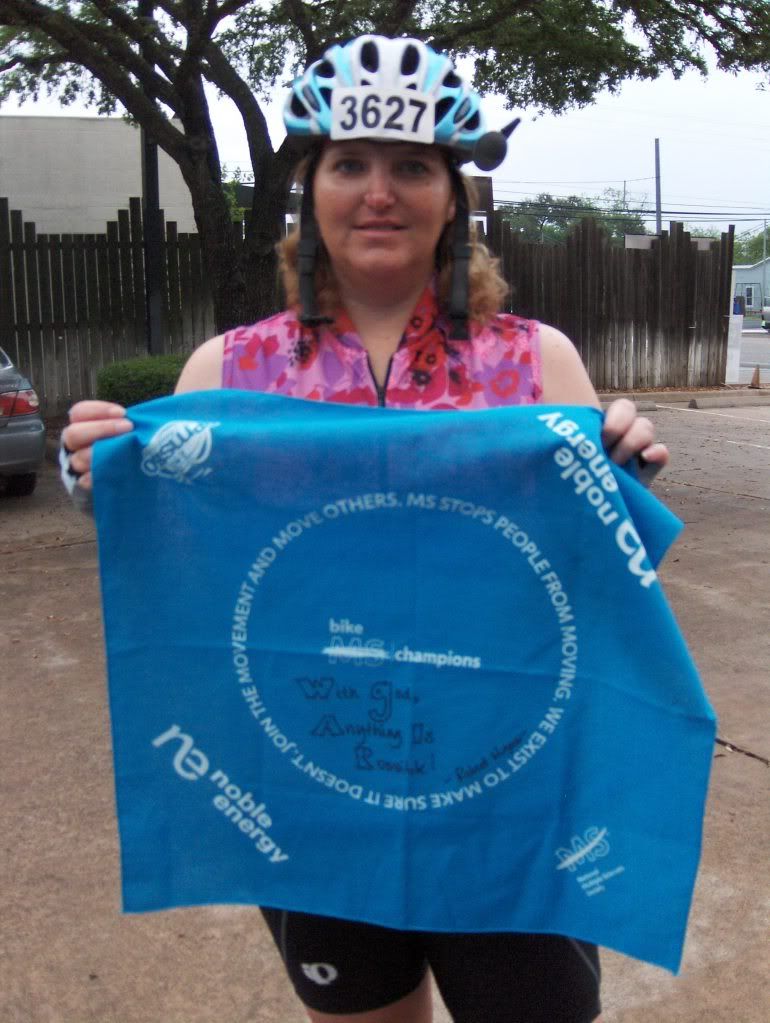 The two of us before heading to the start line. We look pretty fresh and chipper for having woken up at 4am eh?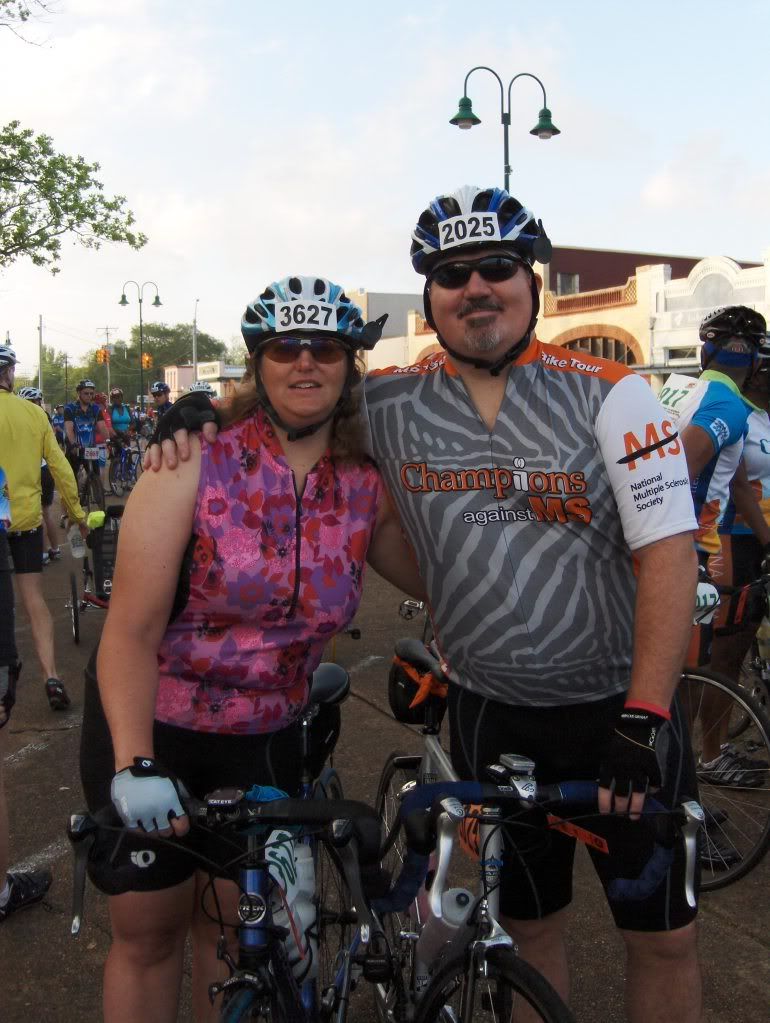 My sister took a picture to show what the back of my jersey says..."I Have MS. This is why I ride!" I had a guy ride up next to me about 2 miles from the finish and say "I am proud to share the same road as you today." It totally made my day!
Us standing among the last few thousand riders waiting to leave LaGrange in front of the Fayette County Clerk's building in courthouse square.
We did it! The two of us stopped at the final corner with the finish line and the state capitol in the distance behind us.
What...did you think I had forgotten about YOU? The reason I ride? The motivation that keeps my legs moving? Not a Chance! The batdanna in all its glory rides again!