Wanted to add (and show you), just what happened. Oh by the way, I fine tuned the carpet glider. Now it really looks like the original that is sold on the Shark website.
It's Easter Sunday, and because we have no family, I decided to go over the floors again, and to go into my bedroom (which has wooden floors, and where I have two carpet runners. (I think they are called runners). Long pieces of carpet that I place over the front and sides of my bed, because my bedroom is over the bedroom of two 82 year old people and the floors creak. And when Alan wears the shoe boot thing, well, it sounds like Jack the Giant Killer when he walks on the floor.
So I've been using my Dirt Devil Sweeper on these runners, to pick up any loose stuff (I thought I actually was cleaning it, can you believe that??).
So after yesterdays trial run of cleaning the run in the computer room, I said: "why not see how it cleans the runners in the bedroom".
I did clean the wooden floor underneath also.
I also cleaned my living room floor, but honestly, since I've steamed clean that floor, how dirty can it get right? I mean, we are two people, no animals and no kids running around.
WELL!!!
after I finished steam cleaning the runners in the bedroom, I decided to take a look at the bottom of the mop and see if got any dirt up. I had first gone over them with the Dirt Devil.
I had to take a picture.
Get a load of what this baby picks up off of the runners in my bedroom.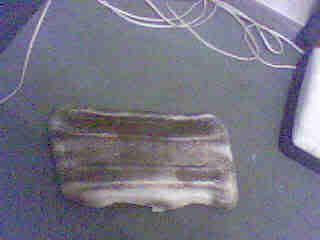 I wouldn't have believed this was possible if I didn't see it for myself.
I heard my neighbors going out into their car, so I ran out with my Shark Mop.
They eyes bugged out of their heads, and they said (this is all in Italian). "Melodia, what is that, oh my god??" and she yells to her son-in-law 'Go and buy me this mop".
I laughed so hard. The funny thing is that this gadget still steams after you pull the plug. Maybe for about a minute or so.
So there I was out in front of my house, on the sidewalk, pumping this mop and showing my neighbors. Oohing and Aahing, they were getting out of their cars and coming over to see.
I bet every italian on my block buys one of these things.
And they didn't even see the carpet thing I made. They just were amazed at what it picked up off of the floor.
These are the people who get down on their hands and knees and using rags, they clean their floors by hand. The OLD FASHIONED WAY.
I told the lady downstairs. Sometimes this week, I'll come down and I'll show you what this thing can do on YOUR floor."
You never saw someone 82 years old, laugh their heads off and chatter away in italian "Francesco, you are getting me this mop".
lol